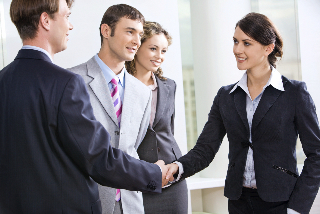 Corporate Training Workshops and Seminars
Examples of Lauren's Speaking Topics Include:
BUSINESS APPROPRIATE: IT IS TIME TO PUT THE BUSINESS BACK IN BUSINESS CASUAL
Now that Business Casual has been in the workplace for a period of time, you may have noticed "Business Casualties" in your work environment. "Business Appropriate" is the term for clarifying what is acceptable casual wear in today's workplace. Learn how to project authority and respect, while retaining the benefits of comfort and convenience.
---
CREATING A POWERFUL APPEARANCE: PROFESSIONAL ATTIRE FOR MEN & WOMEN
Would you like to create a more powerful and effective public image? Learn what wardrobe choices are working for you and what you need to change to achieve a more powerful image. Discover how to be more confident and gain a greater level of respect, by simply changing your wardrobe selections.
---
BUSINESS ETIQUETTE – THE ART OF CONDUCTING YOURSELF APPROPRIATELY AND WITH SAVVY IN THE WORKPLACE
Professionals who demonstrate fine manners and understand protocol build promising business relationships. Discover the strategies needed to present a more professional and confident self-image. Learn how to interact with others effectively in many business settings. By understanding protocol, you will conduct your business affairs with confidence, finesse, grace, and efficiency. Highlights of this seminar include, Personal Presentation, Effective Communications, E-Mail and Cell Phone Etiquette, Greetings and Introductions, Body Language, The Art of Handshaking, Business Card Formalities, and Dining Etiquette.
---
COLOR ME PROMOTED, COLOR ME A LEADER, OR COLOR ME GOING NO-WHERE
Discover how the colors you wear everyday affect others. All individuals have physiological responses to color, particularly the color of clothing. Ensure you are eliciting the response you want from the people you want to influence. Learn which influential colors to wear to achieve your goals.
---
STYLE AND PROPORTION - WHAT FITS YOU BEST TODAY?
Discover the current fashion trends, while also learning about "Classic" styles. We will review which cuts and designs compliment which particular body types. This valuable information will help you keep your wardrobe up-to-date with flattering, figure-enhancing styles. You will learn about the trends, the classics, and which designs work best for you.